Hello and welcome,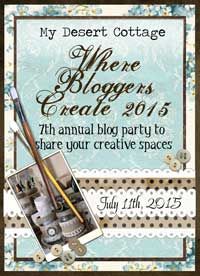 Now onto something really exciting.....A Fabulous Blog Party happening very soon over at
Actually 11 July to be precise.
Its so exciting as a blogger and crafter to see all the amazing studios where some of the finest artists create the most amazing pieces of art. I entered for the first time last year and am excited to be entering again this year. I won't tell you anymore about it, visit
MY DESERT COTTAGE
where you can also see last years party.
Thank-you to Karen Valentine who is hosting this exciting event for the 7th year in a row.
Karen also creates the most AMAZING blogs so if yours needs a freshen up before the big day send her a message. You wont be disappointed, she created my blog right here!!:)
Thanks so much for stopping by and I will hopefully see you at the Blog Party!!!!!!